Some people like to grow their hair. Not only women and girls but also there is huge craze in men to have a stylish long hair look. If you are one of them then you may like to have a best protection for your hair while swimming. Some silicone caps slide up because they are thin and slippery when wet. If you are hair are already wet then sometimes it becomes frustrating. Neoprene caps are one of the good options for this scenario. Today we are reviewing very popular swim cap in this article. Its name is my swim cap. Size of this cap is good for any length and type of hair. It is also a nice option for people with extensions.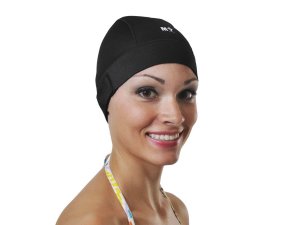 Characteristics
It is available in different sizes like DIVA, unisex and unisex plus. Therefore it works for almost everyone like kids, adults and swimmers with long hair. It comes with strap in the back which helps you to keep cap on and also helps to keep water out. Neoprene is used inside and outside surface made of spandex material. Spandex creates very nice grip and easy adjusting. Another bonus of outside surface is nice grip for goggle straps. This is just like placing the swimming goggle and it will stay. If you are learning swimming then we highly recommend using goggle. They illuminates the issues like burning eyes, poor vision under water and issues with orientation of water by providing clear visibility. So you can totally focus on learning swimming skills.
Pros
Durability: The combination of neoprene and spandex makes it very durable and long lasting even for daily swimmers.
Comfortable: Design of the strap makes it very comfortable to use. You can adjust this strap as per your head size. So there is no issue of over pressure and tight fitting.
Size: It is available in different sizes. If you have long hair or extensions then you can select size DIVA. If you have shoulder length hair then unisex plus is good for you. Otherwise unisex cap swim cap is great for short length hair. So anyone can use this cap regardless of hair type, head size or hair length. Check if junior diva is available for kids.
Cons
Wet hair: Some reviewers complaint about not protecting hair from water but at the same time there are lots of customers who don't feel the same. Sometimes these things also depend on the way you use and wear this cap.
Price: It seems expensive but you should not forget that it is very durable and premium quality cap so you can consider it as a long time investment. If you are lucky enough to spend little more then you should try this cap.
Tips
This cap with size DIVA is one of the largest swimming caps in the market. So if you have long hair, extensions, dreadlocks or big head then it is great option for you.
If you are a fan of using coconut oil or any other conditioners before wearing a swim cap then you should check this cap.
Final thought
We are recommending this my swimming cap because of its high quality and positive reviews from customers. It is very compatible for hair with conditioners or oil. This is a nice swim cap which can be used for your daily uses as well as on vacations. Hope, you found your dream swimming cap now. Have a nice day!