Ever since latex was invented or rather chanced upon, almost everything is being fashioned out of it. And rightly so because it is one of the most reliable materials out there.
So, it is no surprise something as common as swim caps are also made of latex. They require flexibility and the material's ability to be intact in the water for long periods of time, both of which are qualities used to describe latex.
Latex swim caps are also very reasonably priced and they can last a really long time. There is hardly any concern for wear and tear as far as latex is concerned.
Swimmers are using these caps since 1920 but still, these are very popular and demanding swimming caps in the market. These caps are providing some exclusive features which can't be replaced by other types of caps and this is one of the reasons behind the huge popularity of cap.
Latex swim caps reviews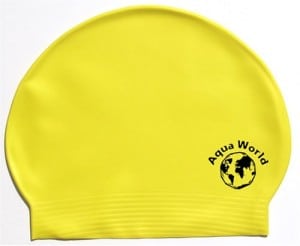 Aqua world's yellow latex cap comes with anti-tear edges which help to improve the lifetime of this cap. It is available in different colors. It covers ears completely and prevents water from your hair.
You can get this aqua world product in less price. We are recommending this cap for its durability, nice look and great reviews from buyers.
This swim cap is made of latex material, therefore, it will not help you to keep your hair dry while swimming. If you are looking for waterproof caps then you should go with silicone swimming caps.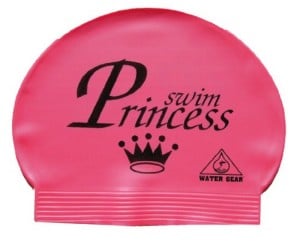 If you are looking to buy a swim cap for your daughter or girlfriend then you should go with this cap. It looks very pretty.
Another great thing about this cap is its pink color which is a favorite color of women. it is not available in many colors so limited color options are the only disadvantage of this cap.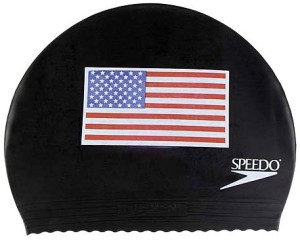 This black Speedo cap comes with the American flag on the front side. These types of designs sometimes inspire swimmers to do their best.
Though its price is less, it looks little expensive for good customer feedback and latex material. We are still recommending this cap for its great look, nice flag print and tear resistant construction.
Characteristics of latex swim cap:
Single color: Unlike silicone caps, latex swimming caps are dominated by single color. The only logo of the brand has a different color. If you are not a fan of multi-color then it is a good option for you.
Thinner: These caps are thinnest caps available in the market. It may cause tear while using the cap.
Smell: These caps have some special kind of smell. Nowadays many branded caps overcome this smelling problem.
Rubber: This cap made of rubber-like material, therefore, they have body touch fitting.
Pros
Inexpensive: These caps are most inexpensive caps in the market. Though they are inexpensive it doesn't mean they are bad. You can get a good quality cap at very less price.
Protecting hair from water: Latex caps are best known for their ability to protect your hair from water. Some swimmers also use these caps under other expensive caps.
Drag and resistance: These caps are really good to reduce the drag and resistance while swimming. These are very useful in swimming competitions.
Lightweight: These are very lightweight caps.
Cons
Dry hair problem: Though this cap helps you to protect your hair from chemicals like chlorine, it is not easy to wear this cap on dry hair. It is better to wet your hair and swim cap to wear it comfortably.
Latex allergy: If you have allergy from latex material then you should not buy this cap.
Lifetime: These caps are not as durable as Lycra or silicone caps. Therefore you should not buy them for long-term use.
Tear: Tearing is huge problem latex material. You should be careful while wearing them because these caps are very thin and can tear while putting on or off.
Single color and design: Latex caps are not available in multicolor and different designs. If you are looking for funny swim caps or different designs then it is better to go with other types of caps.
Final Thought
These caps are great options for seasonal use. We are not recommending these caps for daily uses because it is better to go with something more durable and long-lasting for your daily uses.
If you just want to try them for some time and looking for low budget caps then probably this is the best choice. You can also buy this inexpensive swim cap to try it for your vacation.
Hope this information helps you to understand advantages, disadvantages, and features of latex swimming caps. Have a fantastic day!