Swimming fins are another important form of swimming accessory that is very useful in improving the performance of a swimmer. Even though these are mostly used by professional swimmers, they are becoming more and more popular among the general populace too. Swimming as an exercise is an attractive activity nowadays and wearing a good pair of swim fins adds to that exercise. It sort of raises the difficulty level and hence helps an individual in reaping greater benefits.
Benefits of using swim fins
There are many benefits of using swimming fins. Some of them are listed below:
They increase the speed of swimming. Speed is an important factor when one is competing with other swimmers. It is very important to maintain a level of speed in the pool and wearing proper swim fins makes that happen.
They reduce the strain on legs by providing them the ergonomic support that the activity of swimming demands. Human feet are not perfectly designed for swimming like other amphibians. That is why wearing these fins gives us an edge and allows us to swim efficiently.
They enhance the overall performance of a swimmer without making them work too much. This is an important factor for professional swimmers. Their performance needs to be efficient. That is more speed with less effort. The swimming fins provide that advantage in athletic swimming competitions.
They help in the strengthening of the calves. Because of the slight resistance that the calves face by wearing these fins, the legs automatically become strong in the long run. This is equivalent to any kind of leg exercises outside the swimming pool.
They make swimming a good exercise for the heart. Because they increase the cardiovascular activity in the body by adding a bit of resistance, swimming becomes a good cardio exercise as a result.
Top Swim Fins Reviews
Cressi Light Swimming Fins (Made in Italy)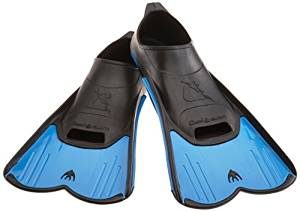 The Cressi light swimming fins have been made especially for training in the pool. These are special fins that assist an individual in their swimming routines and enhance their performance by increasing speed and efficiency. The design of these fins is such that it makes the legs work well during the strokes. But at the same time the length of the fins is kept limited so that there is no muscle cramping and excessive strain on the calves which can be an issue for those swimmers who have to practice their routines over and over throughout the day. The Cressi swimming fins are perfect for the training of professional swimmers.
Maru Training Fins – Neon Pink and Black Size 33/34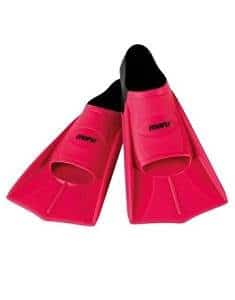 The Maru training swim fins are a custom made product for professional swimmers. They are made with a very specific design feature that helps swimmers increase their speed and make use of a better body posture. The shape of these swim fins is such that it forces the legs to extend beyond their normal capacity hence improving the strength of the strokes in water. They also increase the strength of the legs by making them work harder. This is a very visible change that one can see after using these fins for just a couple of days. With enough practice one can be sure of a drastic improvement in their swimming performance all thanks to the Mary training fins. These are the best swim fins that fit the needs of a professional swimmer available in the market today.
Cressi Agua Short Swim Fins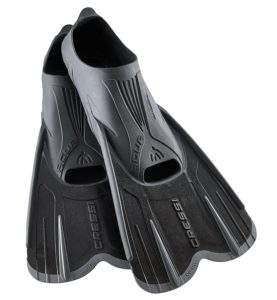 Cressi is one of the most fashionable brands out there that has churned out some of the best looking swimming apparatus for both professional and amateur swimmers. This is a brand that has the top quality swimming goggles and caps on its shelves along with these swim fins which just make for a perfect set of swim wear from a single brand. The Cress Agua swim fins are just as stylish as the rest of Cressi products. The blue and black design gives them a very sharp appearance. Also contributing to this feature is the updated shape of the fins which help in enhancing the speed of the swimmer. The grip for the feet is also very good and one can move freely in the water without any fear of losing their swim fins to a fast tide or strokes. The Cressi Agua swim fins are a definitely must buy item for any swimming enthusiast.
Slazenger Unisex Rub Short Fin Flipper Snorkel Swimming Accessories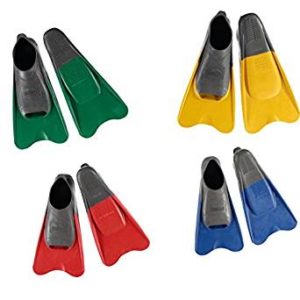 Slazenger is a popular brand for sportswear. They have a pretty wide range of swim wear products too. The swim fins from this brand also stand up to the name of the company. They are well made and have a lot of useful features. For starters, the fin size is fairly short which makes it very useful for those who like to swim just for the fun of it. Bulky swim fins are a little hard to wear for individuals who want to make swimming their way of exercising. So the short size of these fins makes them a perfect choice for amateur swimmers. These fins can also be used for other under water activities snorkeling and scuba diving. They come in different bright colors and are suitable for both men and women. The material itself is soft touch rubber which makes it easy to handle. All in all, with its affordable price range and ergonomic design, the Slazenger swim fins are the perfect set of fins for any swimmer.
Conclusion
Swimming accessories make a world of a difference in the performance of in individual. Whether you are a professional swimmer or a hobbyist swimmer, having proper swim gear like goggles, swim caps and swim fins will make the entire activity of swimming more productive and enjoyable for you. The key is to choose the right product based on adequate research. There are many brands that have come up with their own innovative range on swimming gear and even an individual with very specific needs can now find a product to their liking very easily.