One of the most important swimming accessories is the swimming caps used by the swimmers in the water. It is not only the make or the sizing of these swimming caps that matters to the swimmer but also the kind of material that is used and whether it provides them protection under the water or not. This is the main reason why swimmers who often takes to swimming under water need to have a swim cap to avoid causing any damage to their hair under water.
The water used in swimming pools is very often treated with chemicals and contains a large amount of chlorine. When exposed to this, the hairs undergo severe damage. Swimming caps usually have a silicone make that ensures that no water perforates through the cap. One needs to cover the hair entirely with these caps as done with shower caps and ensure that no stands are left out. Apart from serving the purpose of standing as a barrier that does not let hair come in front of you while swimming (the core purpose of all swimming head gears) this one also allows you to keep your hair dry and protect them from any water exposure. Wet hair might not be an obstacle for the swimmers, but due to the damage they might undergo, it is important to keep them dry.
The interactive chart of caps below and the analysis that follows will help you decide what the best swimming or bathing cap is for you.
Top 3 Swimming Caps in 2017
Types of swimming caps:
Swimming caps are made from hard rubber and elastic materials. Some of them are namely Silicone, Lycra and latex. You can choose any one of these based on your needs and requirements.
Image
Name
Advantage
Latex Caps
1. Most Popular
2. Low cost but
serves purpose
3.Large Variety
4.Thinner
Silicone Caps
1. Great shiny colors
and designs
2. More durable than
latex
3.Best for daily users
Lycra Caps
1. very lightweight
2. perfect for long
hairs
3. Also use under
latex swim cap
4.Nice Looks
Neoprene
Cap
1. Best type
2. Designed to keep
head warm
3. Long lasting
4. VERY comfortable
Latex swim caps

The material used in making these caps is latex which is obtained from the rubber tree, and these 'latex caps' were the standard swimming equipment till the silicone caps took over the mantle. These swimmer caps are highly elastic, and it is due to this stretchable quality that they fit tightly and appropriately.
This is the proven fact that latex is one of the best impermeable materials in the world and this condition prevents the water from going inside. It holds your hairs to the scalp very tightly. The best elastic quality of latex swimmer caps makes them fit all the sizes. They are easily available in the market and are best suited for recreational swimmers or inexperienced swimmers.
When should you buy this?
You are not a regular swimmer.

You don't want to use for a long time.

You are looking for the less costly cap.

You don't want fancy colors because it is available in one color per cap.

You just need a swim cap, that gets the job done then go for it!
Silicone swim cap

These swimming caps are most advanced and best of the lot. They are lot more durable when compared to caps made from other materials. They are usually better suited for swimmers with long hairs. There is an adding of the thick layer because of which there are no wrinkles on it, which in fact reduces the drag resistance resulting in the increase of speed while swimming. These Silicone swimming caps fit properly, and it holds the hairs to the scalp properly, better than other swimming caps.
The only disadvantage of silicone caps is that they are a wee bit expensive than other swimming caps but then they are best suited for professional swimmers who have to swim daily for long hours. The other advantage is they come in the variety of colors and design; this helps you in identifying fellow swimmers and prevents you from bumping into them.
When should you buy this?
You like to have a cap with different cool shapes.

If you want a shiny hat, then this is the best.

You are daily user or want a cap for a long time.

You have allergic reactions for latex caps.

If look matters to you because these are one of the most good looking caps.

If you want to buy it for kids, then this is the best option.
Lycra caps

These plastic caps are made up of Lycra, and as the name suggests, it is a scientifically developed material called Lycra or Spandex. These Lycra or Spandex Swim caps were once most used caps until the latex swimming hats arrived in the market. These Swim hats have the highly elastic characteristic. As it is highly flexible, it covers your head and hair perfectly and comfortably.
As it is made from the synthetic material, it also protects you from very dangerous UV (ultra violet) Rays. They are also lightweight and easy to carry around. These caps are easy to use and affordable at the same time as they are cheaper than other variants of swimming caps.
When should you buy Lycra, swim cap?
You want soft and comfortable feel.

If you have long hair, then this is one of the best options for you.

You want to swim in the hot water because it evacuates the heat better.

You want to look good at pool.

You don't have the chlorine issue then go for it.

You want a cap that doesn't pull your hairs.
Neoprene bathing caps
When should you buy this?
You are swimming in cold water then neoprene swim cap is the best option.

When you want to keep your head warm, there is no competition for these caps.

If you can spend some more money, buy this because this is the best and value for money.

If you want the best comfort and experience go for it!

If you want something better for a long time, it should be your choice.
Reviews of best swim caps:
Speedo Silicone Cap


It is one of the best-selling caps in the market.
Based on the overall rating, quality of material, size, and reputation of the maker, the Speedo Silicone is one of the best caps that anyone could own. It is designed to hug the head to reduce drag securely. It can be stretched to more than double its original size.
Blueseventy Skull Cap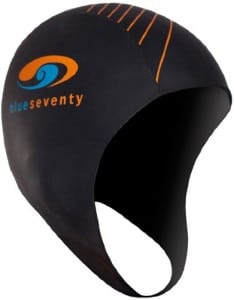 This cap comes with one year warranty. Yes, you read it right. You can imagine its quality and reputation. It has a 3mm Yamamoto Neoprene. It provides warmth and reduces drag. This cap is one of the highly rated swim caps. This hat kept your head and ears comfortable and warm. The best thing about this hat is delivered fast and keeps the dome from freezing. Blue Seventy makes a good product, and this works well.
TYR Lycra Cap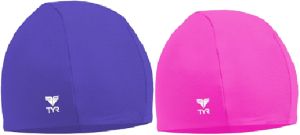 It is specially designed with the recreational swimmer in mind. It is extremely comfortable without pulling or snagging. The best thing about it is that it doesn't pull your hair! Cost is also not much for this cap.
Speedo Silicone Long Hair:


If you have long hairs, then don't go anywhere this is the best product for you. It is specially designed to fit swimmers with long hair. It resists snagging and tearing. It is one of the best!
If you are looking for big size cap, then you should also check this complete review of my swim cap.
Why Should You Use These Caps?
To keep your hair out of the face.

To protect hair from pool water chemicals like chlorine.




To help you to move faster in the water by reducing resistance.

To keep your head warm in cold water.

To Keep the hair and ears prevented from any water exposure so that you need not have to avoid the pool because of tangled and messed up hair.
How to Find a Cap That Meets Your Needs
Above you will find an interactive comparison chart of different types of bathing caps in the market today.  Overall, look at the options and criteria to help you make the appropriate buying decision. But before you start salivating over your next; let's take a look at some important things you need to check in your next cap.
Type of material: If you are looking to buy a durable and long lasting cap then you should not go with a latex material. Hats made of Neoprene are much more durable. So try to use silicone or neoprene caps for daily use.
A frequency of use: It is also important to understand how frequently you will need it. If you need a hat for vacation only, then you can use latex cap which is less expensive. If you are looking to use that cap every day, then it is better to go with Lycra, neoprene or silicone cap.
Head size and length of hair: Some caps are specially designed for long hair or dreadlocks. Therefore if you have long hair, then you must check whether this cap is large enough or not. Lots of buyers complaint about the small size of the cap but we should not forget that caps are available in different sizes and shapes. So it is our responsibility to know which cap size is right for you.
Cold water and warm water: If you are a cold water swimmer then you should buy neoprene swim cap. These caps are best for keeping you warm while swimming. If you are a warm water swimmer, then Lycra cap is one of the best options. Lycra helps to maintain the temperature.
Wet or dry hair: If you like to keep your hair dry while swimming then you should buy either latex or silicone caps. Now a day there are some waterproof swim caps in the market which are not 100% waterproof, but they can help you to keep your hair dry. If you have small hair or you don't have issues with wet hair, then you can check beautiful Lycra caps for you which are long lasting.
So, understand your requirements and types of caps first. This will help you to find the perfect cap for you.
Guide to put a swimming cap on
Putting a swimming cap is very simple once you know the right way. Sometimes long hair creates a problem. But following these simple tips can make it very easy to put on and off the swimming cap. Lots of time swimmers tear these caps while wearing them due to the lack of knowledge about the right process.
The first thing you want to do is to tie your hair in a ponytail or bun. Try not to use any sharp metal clips or pins because clips can tear the latex or silicone cap.

Now check the front and back of the cap. Logo side is the front of the cap. Backsides of cap supposed to have a little bit more room like cone or bow to hold your hair.

What you need to do now is to put your hands inside of the cap and stretch it. The position of the hands is kind of like holding a top of the basketball or something.

You want your fingertips to be rounded down, or like that so your finger nails don't tear that cap.

Now put it on your hair bun first then bring the rest cap forward. Then just take a little time to adjust it as per your comfort and head size.

Try not to wear earrings while using bathing caps because the back of the earring can also tear the cap.
Take the cap off:
When you want to take the cap off, then try and get your fingertips underneath the cap without using your nails. Bigger nails can tear it.

Then just pull it back and take it off from the back.

This is simple if you take some precautions.
Facts on swim caps:
Molded silicone swimming caps are most popular in the Olympics.

Swim Caps made of neoprene are more durable than any other caps.

Some bathing caps also protect your hair from the harsh effects of chlorine and salt water.

Most of the caps are made from latex or silicone.

Latex caps are cheapest and relatively slim and skinny.

Silicone caps are thicker, longer-lasting, and more expensive.

Swim cap Keep the hair out of the face and to protect it from swimming pool chemicals, especially chlorine.
Other Swimming Products:
Swimming Goggles:
After swimming caps, one of the most important swimming product is swimming goggles. You can read the complete guide about swim goggles in my another article where I reviewed top goggles in the market.
Shower caps
A shower cap is a kind of hat or cap that is usually worn while bathing to protect a person's hair from getting wet. Shower caps come in various types, patterns and sizes varying from one manufacturer to other. With a new trend for designer and stylish day to day things, even shower caps come with new looks, colors, and trendy designs. You can read detailed reviews of best shower caps here.
Your Turn
It will be a pity if a swimming enthusiast has to give up swimming just because they are afraid of having their hair ruined underwater. Therefore, for the sake of their needs and many other females with long hair who have to undergo a nightmare by letting their long hair get tangled underwater, it is a boon to have these waterproof swimming caps come to their rescue. They are simple to use, easy to get across, very long lasting (almost a lifetime if used with proper care) and come at a reasonable price too.
These swimming caps are nowadays used by even the professional players in this field. If you are a regular swimmer, it is best to you to go for these swimming caps, irrespective of whether your hair is long or not because it is not just your hair that it protects but also the ears that might get clogged due to water seeping inside. For the best results, you ought to use these swim caps with the pins to keep them intact and free from slipping. For the kind of endurance, concentration, and ease that is required for underwater swimming, these caps are just the thing. So go ahead and buy one of these swimming caps today itself!